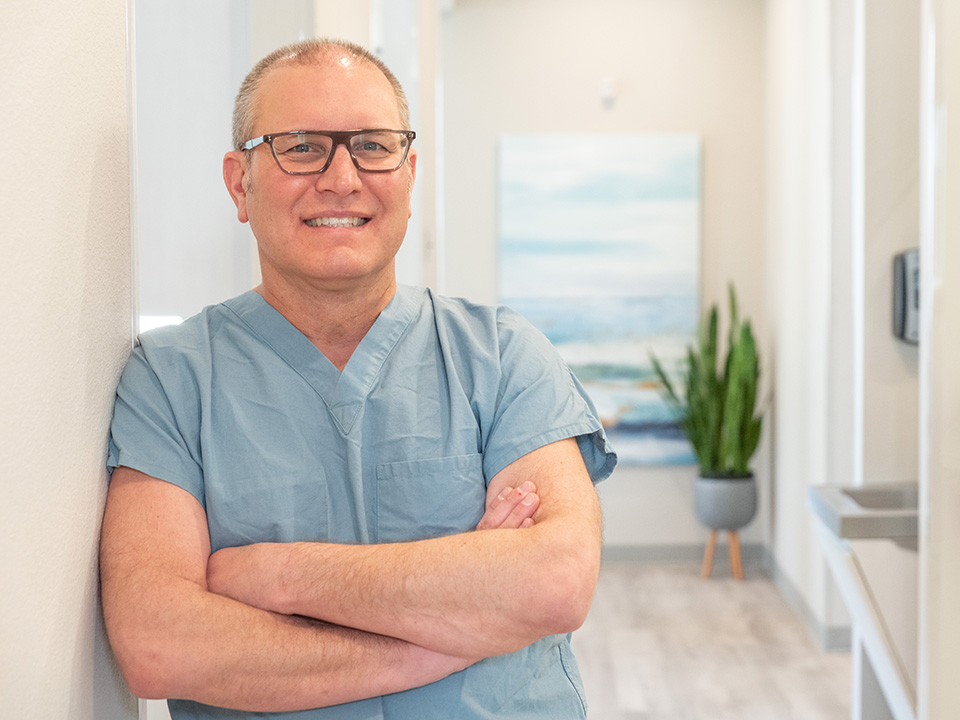 Meet Our Doctor
Jeffrey Minth, DDS
The right dental care can put a smile on your face for several reasons. Dr. Jeffrey Minth is committed to providing superior oral health care for patients while also making trips to our office something to look forward to! During visits to our practice, you can enjoy support with advanced technology and tools while also appreciating a fun, friendly atmosphere that makes professional care more enjoyable. Dr. Minth and everyone at The Right Dentist is proud to offer this positive experience to the Rockwall, TX community!
Why us?
We're The Right Choice
Whether you come in for a routine dental checkup or need to take on active problems, we can help you see exciting results. We also take on health and quality of life issues like sleep apnea and TMJ disorder, and we can make you happier to show off your smile with cosmetic services.
Starting with your first visit, we can create a plan for sustaining your dental well-being and protecting you against future threats. We can also intervene whenever issues are identified and provide quality care that preserves your appearance and oral health.
Our Dental Services
Invisalign is an orthodontic treatment that makes teeth straightening discreet. Find out how we can help you make your smile more symmetrical and attractive with custom clear aligners!
Leaving sleep apnea untreated puts your mental and physical health at risk. Learn how your dentist can provide a conservative and comfortable treatment option for this condition.
The right routine support in the dentist's chair can help you stay protected against cavities, gum disease, and other threats. We proudly offer preventive care for kids and adults!
Have you been hiding your smile because you feel embarrassed by your teeth stains? We can provide stunning results through professional teeth whitening treatment!
Get A Healthy Smile Today!
Contact Us And Plan Your Visit
While every appointment is taken seriously, we know how important your first visit can be. During your initial trip to our office, we take care to thoroughly evaluate you and review your oral health history while learning more about you. From that first interaction, we can create an effective smile care plan and make sure you have the right experience during all of your future appointments!
Big Red Country
2023-05-25
Dr. Minth is outstanding & is extremely caring & professional. I've been going to Dr. Minth for over 15 years & he is always amazing. He listens to your concerns & does his best to accommodate your needs. Trust me, you will not find a better dentist.
tierney jumper
2023-05-11
Dr. Minth has cared for my family for many years. Love the staff.
Dr. Minth and staff make you feel very comfortable and welcome while you're in for your appointment.
I've been going to this dentist for 20 years. I have always loved both their dental hygienists and the dentist.
Dr. Minth doesn't do work that isn't needed. I never have to wait. Been coming for years.
From the front desk to the office visit the service is professional, friendly and caring. I am glad the Department of Veteran Affairs sent me here for my dental needs.
I've had pretty bad and painful dental visits in the past from just fillings, which had a hand in me putting off going back for a few years unfortunately. My visit to Dr Minths was fantastic and even though I had/have a bit more work that needs done, I'm absolutely looking forward to coming back. Pain free and very relaxing visit, even though I was there for a couple hours.
Dr. Minth has been our family dentist since we moved to Rockwall/Heath in 2008! Our daughters have beautiful teeth after receiving orthodontic care as well during their teenage years. Dr Minth and his team are the best! And funny! 🦷
Plan Your Visit Now
Fill out your forms online.
Get in touch if you need help.
Drop Us A Line
Request An Appointment
"*" indicates required fields